The UNGP Reporting Database is staffed by our small team of specially trained analysts who manually read companies' entire body of disclosure, looking for relevant information about human rights. With over 75 companies in the Reporting Database, our analysts are in a prime position to share insights about trends they're seeing in corporate disclosure on human rights, and whether or not that disclosure is meeting the expectations of the UN Guiding Principles on Business and Human Rights.
This page is a running series of blogs and short commentaries on corporate human rights reporting trends. If you're interested in learning more about our insights, or republishing these articles elsewhere, please write to us at info[at]ungpreporting.org.
—
Are companies taking a principled approach, or are they cherry picking which issues to report on?
April 2017 – After a year of mapping companies' human rights reporting against the expectations of the UNGP Reporting Framework, Shift's research and analysis reveals that over half of companies provide no clarification about which human rights are most relevant to their operations and value chains, simply listing certain rights without any apparent rationale. This should leave any reader concerned that the company has no clear idea where its greatest potential impacts on people lie — its salient human rights issues — and therefore may well not be managing those risks.
Identifying the company's salient human rights issues is the first step of human rights due diligence under the UN Guiding Principles. Indeed, the 'salience lens' focuses the company's attention and resources on finding information that is necessary for its own ability to manage human rights risks – especially the most severe risks – and related risks to the business. This takes companies away from reporting for the sake of reporting.
In other words, using salience means that reporting changes from being a resource drain on companies – an exercise in chasing down data for an external communications exercise – to being an investment in putting in place processes that enable the company to manage key risks to people and to the business.
See the complete article here.
Many companies have a commitment on human rights — but where is the explanation of accountability for its implementation?
October 2016 – In the previous article in this series, we noted that 75 per cent of companies in the Reporting Database have a policy commitment to respect human rights. Far fewer companies, however, are clear about the governance and accountability structures they have in place to ensure the policy is implemented.
Indeed, while 80 per cent of companies in the Reporting Database mention having a committee responsible for sustainability, CSR or ethics and compliance, 62 per cent fail to tell us if that committee is actually accountable for their human rights commitment.
Without this governance information – the explanation of oversight structures that are critical to embed the policy commitment into practice – stakeholders can have little confidence that the company can effectively manage its human rights risks.
See the complete article here.
Making the commitment — but is it a strong one?
August 2016 – While 75 per cent of companies in the Reporting Database have some kind of high level policy commitment to respect human rights, the quality of those policies varies significantly. The graphic below shows key gaps in what companies tell us about their policies on human rights — which should flag some real question marks for readers concerned about governance and ultimately how these companies manage their human rights risks.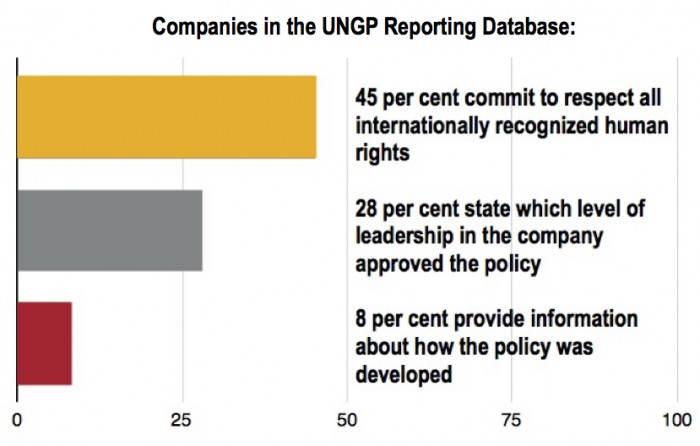 Read more about what's expected on companies on their human rights policy commitment in the complete article.